,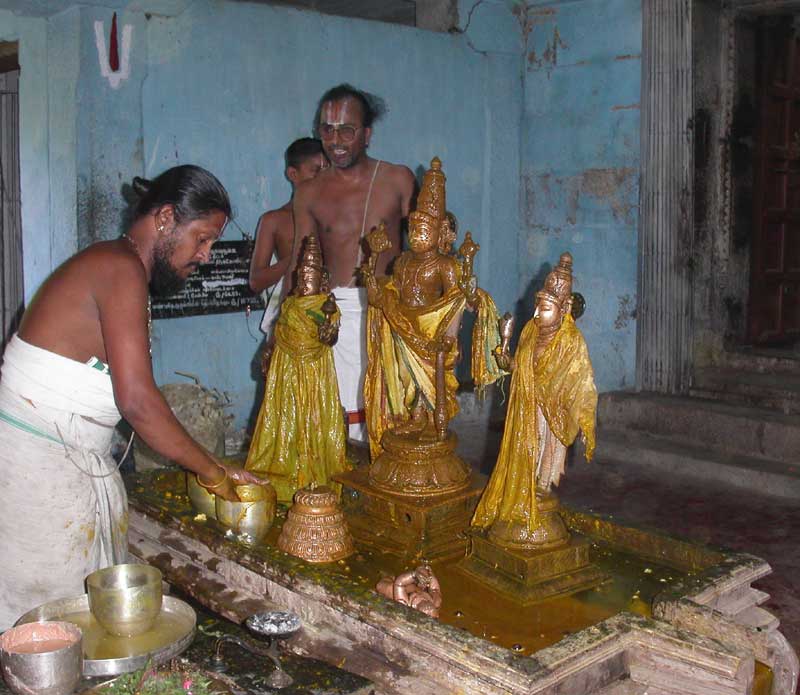 We arWe are in the Kshetram Arimeya Vinnagaram. Ari is the Tamil equivalent of Hari, in Sanskrit, and which means snatching. The Lord snatches the minds of His devotees, He snatches the papa of His devotees. The Lord here is Sri Kudamadu Kootthan [ஸ்ரீ குடமாடு கூத்தன்]. This is one of the Thirunangur Kshetrams. This is another Vinnagaram, we are seeing. Ari meya vinnagaram means, Sri Hari always present vinnagaram. Swami Koorathalwan in his Athimanushatvam says that the Lord dramatically concealed Himself from the eyes of Nityasuris and Muktatmas and came to this world as Sri Krishna. In the pasuram 'choottu nan malaigal thooyanavendhi..' [சூட்டு நன் மாலைகள் தூயனவேந்தி] of Thiruviruttham [திரு விருத்தம்]by Nammalwar [in Thiruvaradhanam it is chanted during Thirumanjanam], the Lord by a magic disappeared from Vaikuntam, when the devotees where doing dhooba harathi [தூப ஹாரத்தி][burning incense materials to create smoke with fragrance], and appeared as Sri Krishna and completed the Avatar and returned before the dhooba harathi was over. Corresponding to this pasuram, we are seeing the same Lord, who was earlier in Vaikunta vinnagaram as Sri Vaikuntanatha, now appearing as Sri Krishna in Arimeya vinnagaram. In Sanskrit the Lord is called Sri Ghata Nartaka Bhagavan. Though, as Sri Krishna, the Lord had danced with pots, according to the sthala purana, the Lord here danced with a pot. Long ago, Kashyapa prajapati had two wives Kadru and Vinata. All serpents and cobras were Kadru's children; while Garuda was the son of Vinata. Once Kadru and Vinata were engaged in an argument. Vinata maintained that the divine horse Uchairavas was fully white, while Kadru argued that its tail was black. Since, Vinata was right, Kadru wanted to win the argument by crook and so black serpents in her children went and twisted themselves on the tail of the horse and from a distance the horse appeared to have black tail. As per the promise made in the argument the loser was to work as slave to the winner; and so Vinata worked as slave of Kadru. Once Kadru told Vinata that if she wanted to be freed from the slavery, she should ask her son Garuda to bring the Amrut kalash [pot containing nectar] and give to Kadru. Accordingly Garuda brought the pot and when Vinata was about to give it to Kadru, the Lord suddenly appeared and snatching the pot He started dancing. Therefore, He is Sri Kudamaadu Kootthan or Sri Ghata Nartaka Bhagavan. Moolavar is appearing with one foot on a pot and appearing to dance. Sri Hari is Sri Krishna.
YeYs yesha Narayana sriman ksheerarnavaniketana:
nagnanagaparyanka mudruchya papato mathuram purim.
Sriman Narayana was born as Sri Krishna and remained in Mathura. All Alwars and Sri Andal have praised that Sri Krishna snatches away our papa. Sri Krishna tells in Gita sloka 'sarvadharman parityachha....', that He would drive away all our sins. Such a Sri Krishna tells Arjuna in Chapter 10, that He is going to reveal all His greatness and He will drive away the papa of anyone who understands His noble and great qualities. In sloka the Lord tells that such a person is relieved of all papa. It is said that as soon as we get up from bed in the morning, we have to chant the name hari:, seven times. This would snatch the papa done till then and the papa likely to be done in future. In Srimad Ramayana, Hanuman is deputed to search for Sri Sita. Hanuman locates Her in Ashoka garden. He hides himself behind a tree branch and observes. Sri Sita is surrounded by Rakshasis [female demons]. Early morning they all see the monkey - Hanuman, and cry hari, hari. In Sanskrit hari also means monkey, and in that meaning they all cried. But Valmiki satirically asks who taught these evil persons to chant Sri Hari's name [hari nama sankeerthanam]. Now sloka 3:
yo mam ajam anadim ca
vetti loka-maheshvaram
asammudhah sa martyesu
sarva-papaih pramucyate
"He who knows Me as the unborn, as the beginningless, as the Supreme Lord of all the worlds—he only, undeluded among men, is freed from all sins."

Ya = he, who, mam = I [Sri Krishna] am, ajan = without birth or birthless, vetti = understands, anadhi = never born, loka maheswara = regards as the God of entire Universe. He who understands the Lord of the entire Universe as never born. Such a person is, martyeshu = among men, asamooda= not confused or not a fool. Because he is not regarding Sri Hari as equal to anyone else. For him, Sri Hari is unique and all others are below Him and worshiping Him. He has no doubts. To consider the Lord as equal to anyone else is foolish; and this person is devoid of this foolishness. Because he has understood Sri Hari is never born and so has no beginning. Sarva papaihi pramuchyate = [such a person] is relieved of all sins. We can now see the essence of this sloka. To get relieved of all sins there are two ways. One is to repent for every sin committed and perform repenting rites or prayaschittha. No one knows how long and in how many births this could be completed. Also, we may not know which prayaschittha is for which sin. The other alternative is to cling to Sri Hari. For that we should have the true knowledge about Him. Then only, we will surrender unto Him. We may be wondering, how, when our papa are not eliminated by our efforts or by others like lord Brahma even, Sri Hari alone could remove them? We should have the firm belief that Sri Hari is Unique and that He is capable of clearing all our papa. By the first part of the sloka, we understand that Sri Hari is without equals as He is without an origin and birthless. One may wonder how we regard Him as birhless, when He was born as Sri Krishna? This had been answered earlier also. The Lord is not born out of karma, like all of us. He takes a birth out of His will. Excepting Him all others are born out of past karma, be they Rishis or other gods or even lord Brahma. Lord Brahma got his position by meditating on the Lord for many thousands of years. So lord Brahma has a birth, an origin and an end. The Lord does not experience the effects of birth, we all have. Muktatman also are not born. Are they indicated by the word ajan? No, because they had births till they now attained Moksham and now onwards they will have no births. The Lord is anadhim ajan, never born. OK, what about Nityasuris like Adisesha or Garuda? True, they were never born; but they are not Loka Maheswara. The Lord is the Leader of all worlds and Sri Vaikuntam. He appoints even those who are popularly addressed as Iswara; as He is Maheswara. This clear understanding is necessary, to surrender to Him and then all sins are destroyed.