In the Thirunangur Divyadesams, one Kshetram wholly dedicated to Lord Sri Rama is Vanpurushotthamam. We are at the
sannidhi
of Sri Vanpurushotthama Perumal. Presently in
Balalayam
, and the
Maha samprokshanam
is to take place early.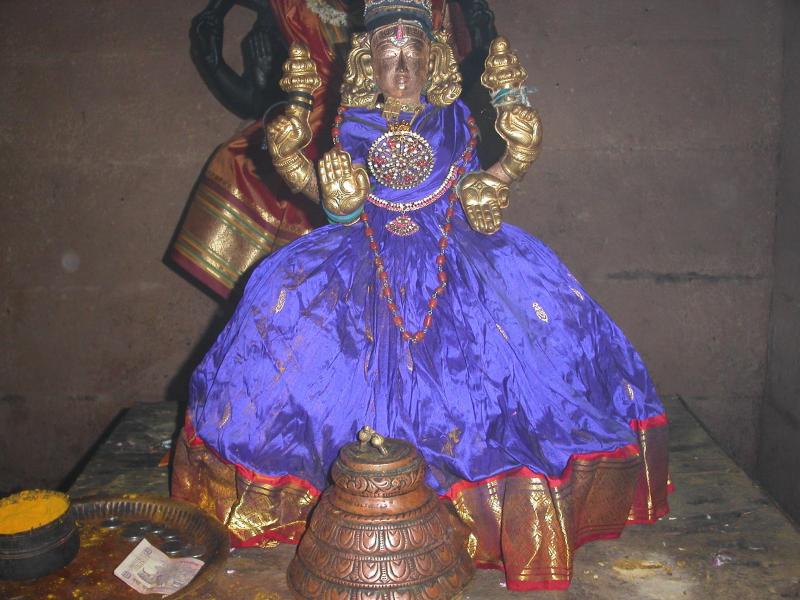 Rajagopuram
[main gate] is attractive in multi colors. Nearby is
Vahana mandapam
. Crossing this we find a large
mandapam.
On one side is the
sannidhi
of Sri Vanpurushotthama and on the other side is the
sannidhi
of Sri Rama. Today's [24th July 2008] lecture is from this
sannidhi
. In front of Sri Rama's
sannidhi
is
sannidhi
of Anjaneya. When Thirumngai Alwar worshiped Si Rama here, he sang praising Sri Rama and according to him, Sri Rama is Sri Prushtthama. This place is connected with sage
Vyagrapadar
[Tiger footed]. He was meditating here for a long time. His child was Upamanyu. Once, leaving the child near the temple the sage went for his routines. After he left, the child cried in hunger. Sri Purushotthama Nayaki,
Thayar
of th temple took pity and consulted the Lord how to help the crying child. They decided to bring the Milk ocean itself here so that the child could be fed. Thus the
Pushkarini
is called
Parkkadal
[பாற்க் கடல்]
pushkarini.
The child was fed and pacified.
Alwar
has praised this place in ten
pasuram
s.
Vimanam
here is
Sanjeevana Vimanam
.
Sanjeevana
means prolonged longevity or life. Anjaneya lifted the
Sanjeevini
hill [to rescue Lashmana in the battlefield]. This
vimanam
is equal to that hill in its greatness. It is said that the Divine name of Sri Rama is capable of stopping a departing soul [ and bring back life]. Similarly, this
Vimanam
also is capable of giving us longevity. Repair works are going on. We will now see
sloka
33. We have heard that with Sri Rama's blessings many have attained
Moksham
. He blessed sage Vasishta, hunter Guha, hunter woman Sabari, Sugriva, Hanuman, bad characters like Viradha and Kabandha, and He granted moksham to the vulture Jatayu. Thus we learn from Sri Rama and this is brought out in the
sloka
s by Sri Krsihna. Whoever may be, if he performed a selfless and unexpecting any reward
Bhakti
, then he attains the supreme place. Even people born in so called inferior births could raise to the supreme place by Bhakti, and there is no need to say that people of good characer and origin would also reach the supreme place. Sisupala, abused Sri Krishna so much that others hearing his abuses would close their ears in horror. But even Sisupala attained
Moksham
. When that is the case we need not enquire the destinations of noble characters like Sanjaya and Vidhura. This is told in
sloka
33:
kim punar brahmanah punya
bhakta rajarsayas tatha
anityam asukham lokam
imam prapya bhajasva mam
"How much more this is so of the righteous brahmanas, the devotees and the saintly kings. Therefore, having come to this temporary, miserable world, engage in loving service unto Me."
We have to segregate this sloka into two parts. First half is continuation of the previous slokas. The second half is an advice given to Arjuna. When people born out of papa karma could reach the Lord, Arjuna, a Rajarishi should have no problem to reach Him. King Kausika became sage Viswamitra and wanted to get the title Brahmarishi. He did intense meditation and graduated first as a Rishi, then Rajarishi and then Brahmarishi. Kim puna = why talk of, punya = those born of past punya or good deeds, bhakta = those worshiping the Lord, rajarasyas tatha = and those who are Rajarishi. When people of inferior character or birth could reach the Lord why ask about those born out of good deeds or those who are continuously worshiping and Rajarishi, like Arjuna. Here we should note that the classification inferior and superior by birth or other yardsticks, is not created by the Lord; but these groupings are found by people and are in vogue. Swami Pillai Lokacharya, in his Sri Vachana Bhooshanam shows a very valid point. He says that many call others as born in inferior community. But this is an illusion only. He emphatically says that by one's birth one can not be considered inferior or lower. Similarly, regarding some as born in high or superior families is also illusion and is wrong. Really, he says, without Bhakti, that birth is low and inferior. He further says that only Bhakti in the Lord makes one superior. Excepting this all other yardsticks to categorise anyone as superior or inferior is wrong and never real. The Lord is common to all, who are surrendering in devotion. Such people are blessed with Moksham and others will have to go in the cycle of birth and death. In the second half of the sloka Sri Krishna tells Arjuna that he being His cousin would also get that supreme position and he has to follow certain things. Mam bhajasva = worship Me [Sri Krishna], prapya = [those] suffering in, imam =this, lokam =world. Since Arjuna is suffering in this world, he should worship in devotion, the Lord. Why so? Because, this world [or living in this world] is, anityam = not permanent, asukham = uncomfortable. This world or worldly lfe is very transient. Even in ths short period it is full of miseries and sorrow. Never comfortable. So Arjuna and others have to get liberated from this inferior place; and that can be only by worshiping the Lord. Here Sri Krishna prescribes sadhana bhakti. We have earlier seen that bhakti is of two types: sadhana and sadhya. In sadhya bhakti, the person does Bhakti for the sake of bhakti as he finds that itself is pleasing. In sadhana bhakti, one performs Bhakti to reach Moksham. Sri Krishna tells Arjuna to perform Bhakti to reach Him and so it is sadhana bhakti He is recommending. Because till sloka 33 first half, Sri Krishna lectured the greatness of Bhakti and performing it was so pleasing. Arjuna should have responded by telling that he would do Bhakti for the sake of Bhakti. But he did not say so. Therefore, Sri Krishna finding no reaction, thought a reward for Bhakti would be able to induce. Sri Krishna thus tells Arjuna that he should do his karma of fighting in the war and keep up Kshatriya dharma; and then attain atman sakshakaram; perform bhakti and reach the Lord. If we understand the disadvantages of this world - transient, inferior and sorrowfu, then we can devote to the Lord, Who is everlasting, superior and imparting happiness always. We should devote to the Lord Sri Rama seeing Anjaneya as the example.