If we want to know
meygyanam
[மெய்ஞானம் - truth about life], then we have to learn
Gita.
So explicitly Gita was told by Thirumazhisai
Alwar
in his
pasuram
s. We are at present in his birth place. In Maheesara
Kshetram
, that is Thirumazhisai, we are at the garden and the
mandapam
in it, which are nearby Sri Jagannatha
Perumal
and Thirumazhisai
Alwar sannidhi
s. The
mandapam
is surrounded by natural beauty. Picture of Thirumazhisai
Alwar
in the sannidhi, is drawn here.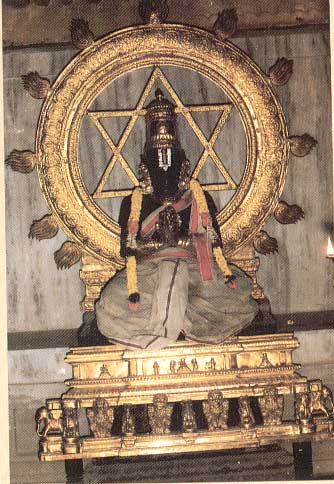 The platform on which
Alwar
appeared is also there. We can see
Sudarsana Chakra
in the background. This is because
Alwar
was the incarnation of
Sudarsana Chakra
. He is apeearing with folded hands. If we carefully see, we can notice a third eye on the
Alwar
's toe. We will see the significance of this later.
Utsavar
of
Alwar
is also with folded hands. He appears with crown and smiling face. Eyes shower mercy. This
Alwar
lived in this World for 4,700 years. He has sung two compliations [
prabhandam
பிரபந்தம்] - Thirucchanda viruttham [திருச்சந்தவிருத்தம் ] and Nanmugan Thiruvandadi [நான்முகன் திருவந்தாதி]. Former consists of 120 verses and latter has 96
pasuram
s. Let us glance his history, in a summarised form. Earlier it was mentioned that many sages had meditated here. It was because it was the best
Kshetram
. Sage Bhargava aka Brighu came here. He was performing
Dheerga satra yagna.
He then started meditation. All the beautiful damsels of heaven, like Rambha, Urvasi, etc., tried to spoil that meditation, but in vain. Then came Kanakangi [கனகாங்கி]and the sage married her and they got a child, Thirumazhisai
Alwar
. When he was born he was lifeless. But inside the body Bhakti for the Lord was alive. Leaving aside that body the sage and Kanakangi left the place. At that time Sri Jagannatha
Perumal
and Sri Thirumangai
Thayar
acted as Parents and brought the child back to life.
Alwar
is known as Bhaktisara, christened by lord Parama Shiva and Parvati. Since he was deeply in devotion [
Bhakti
] of the Lord, he got this name. After Brighu
Rishi
had abandoned, the child was brought up by Thiruvalan [திருவாளன்], a person who made his living by caning baskets, etc. He and his wife Pankayachelvi [பங்கயச்செல்வி] carefully brought up the child. Since Alwar had two parents - one at the time of birth and another to bring up - it is like Two births in the same birth! It is like Lord Sri Krishna was born to Vasudeva and Devaki, while grew up under Nandagopa and Yasoda.
Alwar
grew up and ultimately became an excellent devotee of the Lord. He has tried various religions, in his life span of 4,700 years. This, Alwar himself says in his
pasuram
s. Finally, he became a
Vaishnava
, devotee of the Lord. Once he was seated in a place. Appreciating his devotion, lord Shiva and Parvati came to him to grant boons. Alwar did not care to notice them. Lord Shiva was infuriated and asked how Alwar could remain indifferent to Shiva. Alwar replied that he needed nothing from lord Shiva and so did not care to look at them. Then lord Shiva said that he had come to grant him boons and he could ask any help
Alwar
needed.
Alwar
asked whether Shiva could grant him immortality; Shiva replied in the negative. Again he asked whether Shiva could help him to reach
Vaikuntam
; lord Shiva replied this also in the negative. Ridiculing lord Shiva's incapability,
Alwar
told that in that case lord Shiva could help in threading the needle he was busy with! Lord Shiva was angered and he opened his Third eye on his forehead to reduce
Alwar
to ashes. Immediately,
Alwar
opened the eye at his toe, and from it emerged another fire, which encountered the fire from the Third eye of lord Shiva. Lord Shiva then calmed down and appreciated
Alwar
's devotion to the Lord and gave him the title Bhaktisara. Such was the eminence of Thirumazhisai
Alwar
. We had seen earlier that the
Alwar
ahd visited Sri Aravamuda
Perumal
in Kumbakonam. There, it was mentioned that the Lord gave His part of the name '
Piran
' to this Alwar and attached the '
Alwar
' title to Him! Thus the Lord became Sri Aravamuda Azhvan and the
Alwar,
Thirumazhisai
Piran
! The
Alwar
had the power of
yoga siddhi
. One Vyagrapada, came and demonstrated his
yoga
power and brought from nowhere pearls and jewels.
Alwa
r easily matched all these magics. Then he offered gold to Alwar, who scoffed at him and produced gold from the dust on his body! Because, he never cared for any materialistic acquisition and was devoted only to the Lord. With the blessings of the
Alwar
, we will now see
sloka
14. Lord Sri Krishna further explains the nature of
atman
:
sarvendriya-gunabhasam
sarvendriya-vivarjitam
asaktam sarva-bhrc caiva
nirgunam guna-bhoktr ca
"The Supersoul is the original source of all senses, yet He is without senses. He is unattached, although He is the maintainer of all living beings. He transcends the modes of nature, and at the same time He is the master of all the modes of material nature."
In this sloka, again we have to understand the Two stages of atman: one is Bhaddha atman, bonded in this Universe or samsaram. The other is its liberated state or Mukta atman. Same atman can have both these Two stages. In the last sloka we saw that a Mukta atman was able to see without eyes, smell without nose, hear without ears, etc. Sarva = all, indriya = organs', guna = actions, abhasam = carried out [in Bhaddha stage]. Atman in this Universe is able to carry out all activities of senses through the organs of a body in which atman is residing. Atman as such has no body and so no organs. But atman resides in a body in accordance with past papa/punya karma. If atman wanted to see or hear, etc., then it had to be assisted by the organs of the body in which it is residing. But this limitation is in this Universe or in Bhaddha stage. In this samsaram, without a body and its associated organs, atman can not do the actions like seeing, etc. Sarvendriya = all organs are, vivarjitam = left out or abandoned. That is without any organs, he is active, in liberated or in Mukta stage. That is in the liberated state, same atman, now called Mukta atman, is able to perfrom all actions, which it was able to do with organs in Bhaddha state, without such organs. Mukta atman will see without eyes; will hear without ears; etc. Shastras say that atman in Mukta state eats, sees, etc. All these actions are done without mouth, eyes, etc. In the liberated sate Mukta atman is able to do all these by the enlarged Gyana. Asaktam = not bound by any body [in Mukta state], sarva = all [bodies], bhric' caiva = are also supported [in Bhaddha state]. It means not that atman is supporting all in this Universe; that is possible only by the Lord. But what is implied is that when born in samsaram, the atman takes various bodies in each birth and so it is said that it supports all bodies. When in a body it supports that body; or, atman is the foundation [ஆதாரம்] for that body to sustain. In Mukta state it does not need a body. Nirgunam = without [satva, rajas and tamas] qualities [in Mukta state], guna-bhoktr ca = and enjoys all [satva, rajas and tamas] qualities [in Bhaddha state]. In samsaram or in this Universe, atman is subject to all the qualities like satva, rajas and tamas. But, the same atman, once liberated and is in Mukta stae, is not subject to these Three qualities. Thus we notice Three characteristics: 1) perception with organs 2) supporting a body 3) subject to Three qualities. Atman requires the organs here to perceive in this Universe; but does not need them in Vaikuntam. Atman supports a body in this Universe; but does not need a body in Vaikuntam. Atman experiences satva, rajo and tamo qualities in this Universe; but does not have to experience these in Vaikuntam. This differentiation is alright, but a small rider has to be added. This is important. In the liberated state, as Mukta atman, perceptions could be with or without organs, as desired by the atman. Mukta atman can see without eyes; but if necessary can also see with eyes. Mukta atman can hear without ears; but if necessary can also hear with ears, etc. He need not have a body in Mukta state; but can support any body desired. It is not to support a body but with the body the Mukta atman wants to serve the Lord in Vaikuntam. Thus while in this Universe or in Bhaddha state, atman has these Three divisions only, a Mukta atman can have Six divisions. Mukta atman can perceive with or without organs; can remain with or without a body; and, can experience the Three qualities of satva-rajo-tamas or be away from them. In Bhaddha state atman can perceive only through organs; has to have a body to support; and, has to undergo a blend of satva, rajo and tamo qualities. In liberated state same atmen has choice. When atman crosses Viraja river and reaches Moksham, it gets a shuddha satva [100% pure satva quality] body, without the defects of body, atman can have in this Universe. It is aprakruta [அப்ராக்ருதம்] body. Prakruti or Universe stops on this side of Viraja river. The experience in Vaikuntam is unique. Thus the difference between the place here and in Vaikuntam is indicated in this sloka. We will now take leave of this Kshetram. Being near to Chennai, all are requested to visit this Kshetram to recieve the blessings of Lord Sri Jagannatha, Sri Thirumangai Thayar and Thirumazhisai Alwar.