In
Aippasi
[ஐப்பசி]month and in star Moolam [மூலம்], was born
Vishatavaksikamani Swami
Manavala Mamunigal. He is praised as the last
Acharya
in
Sri Vaishnava Guru parampara
[Teachers' lineage]. He was born in the South, Azhvar Thirunagari. His
Acharya
was
Swami
Thiruvaimozhi Pillai [திருவாய்மொழிபிள்ளை ]. Since he was deeply interested in Nammalwar's
Thiruvaimozhi
, he was called
Swami
Thiruvaimozhi Pillai. Also
Swami
Thiruvaimozhi Pillai was born in the same
Vaikasi
[வைகாசி] month and in the same
Visaka [விசாகம் ]
star [as Nammalwar]. Though the
Veda
s in Sanskrit had great eminence, these Two
Acharya
s wanted to spread the
Dravida Veda
,
Thiruvaimozhi,
and also the other 3000 verses in
Nalayira Prabhandam
to be propagated and spraed all over for recitation in temples.
Swami
Manavala Mamunigal stayed in this
Kshetram
Thiruvekkha for an year. His
Acharya Swami
Thiruvaimozhi Pillai had instructed him to carry out an order.
Sri Bhashyam
penned by
Swami
Ramanuja was a commentary on
Vedantha
and was in
Sanskrit.
It was a detailed explanation of
Brahmasootra
by Veda Vyasa. All
Acharya
s learnt
Sri Bhashyam
and taught others. But
Swami
Thiruvaimozhi Pillai desired that
Swami
Manavala Mamunigal should teach Sri Bhashyam only once and afterwards through out his life he should be involved in
Thiruvaimozhi
in Tamil. He, therefore, ordered his disciple to teach only once
Sri Bhashyam
and afterwards he should concentrate on
Thiruvaimozhi
in the easily understandable Tamil. Accordingly,
Swami
Manavala Mamunigal arrived at Kanchi and taught
Sri Bhashyam
for one year. Today's [24th October 2008] lecture is from the place, where he taught. As we enter we find on the left Sri Andal's
sannidhi
. Between this
sannidhi
and Periyalwar's
mandapam
, he was teaching. While in this place, he got installed
Swami
Pillai Lokacharya's [ his
Acharya's Acharya
] idol here. We can worship
Swami
Pillai Lokacharya - author of
Ashtadisa Grantha and Sri Vachana Bhooshanam
, a very sacred book. He lived a bachelor and so his idol has white robes. As a bachelor through out his life, he elaborately explained the interpretations of
Thirumantram
[
Ashtaksharam], Dwayam
and
Charama sloka
[in
Gita
]. Next we worship the idol of
Swami
Manavala Mamunigal in safron robes as he was a
sanyasi
[ascetic]. He is holding
Tridanda
. He was born in star
Moolam
and we can say because of him [
moolam
in Tamil also means cause] Tamil
Prabhandam
was enlivened. We have to see how intimately the Lord is connected with the
Azhvar
s'
pasuram
s, which
Swami
Manavala Mamunigal propagated. The First Three
Alwar
s refered to as
Mudhal Azhvargal
, were respectfully called as
in
kavi padum parama kavigal
[இன் கவி பாடும் பரம கவிகள்]. They praised the Lord in sweet Tamil. All the
pasuram
s of them were in
venba
[வெண்பா] style [a class of poetry]. Thirumazhisai
Alwar
is associated with this
Kshetram
and one can say the Lord of this place got the name Sri Sonnavannam Perumal, because of him. This place was ruled by a King, who desired to be praised by Thirumazhisai
Alwar
. But
Alwar
never sang in praise of mortals.
Alwar
had a disciple Kanikannan [கணிகண்ணன்]. King tried to get Alwar to praise him, through Kanikannan, who refused. The King ordered Kanikannan to be exiled.
Alwar
thought that because of him, his disciple was to move out of the place, and so
Alwar
also decided to follow suit.
Alwar
saw Sri Yatoktakari reclining on the serpent and he immediately told '
kanikannan poginran; kamaru poonkachi manivanna! nee kidakka venda! Sennapulavanum poginren; neeyum unran pai nagappai suruttik kol
[கணிகண்ணன் போகின்றான்; காமருபூங்கச்சி மணிவண்ணா! நீ கிடக்க வேண்டா! செந்நாப் புலவனும் போகின்றேன்! நீயும் உன்றன் பைந்நாகப் பாய் சுருட்டிக் கொள் !]' - Alwar said, " Kanikannan is going [out of Kanchi, on the orders of King]. Oh! Manivanna! Fluent poet [Thirumazhisai
Alwar
] am also going. [So] You [the Lord, Sri Yatoktakari] need not remain resting here and may roll up your serpent bed [and follow us]". Thus Kanikannan was leaving followed by the Alwar and further followed by the Lord Sri Yatoktakari! They went out of Kanchi and reached a place, which is known as Oriravu irukkai [ஓர் இரவு இருக்கை], which is now popular as Orikkai [ஓரிக்கை] . King got panic as with the Lord leaving evil things surrounded the place. The King prayed the Lord to return. The Lord said that He would return only if
Alwar
returned. King requested
Alwar
to return to Kanchi. Alwar said that he would return only if Kanikannan returned. The King finally requested Kanikannan to return and stay in Kanchi and Kanikannan returned; he was followed by Alwar and the Lord. Alwar said '
Kanikannan pokkozhindan; kamaru poon kachi Manivanna! Nee kidakka vendum, thunivudaiya sennapulavanum pokkozhinden. Neeyum unran pai naaga pai nagappai paduthukkol'
[கணிகண்ணன் போக்கொழிந்தான்! காமருபூங்கச்சி மணிவண்ணா! நீ கிடக்க வேண்டும்! துணிவுடைய செந்நாப் புலவனும் போக்கொழிந்தேன்! நீயும் உன்றன் பைந்நாகப் பாயில் படுத்துக் கொள்!].
Alwar
said, " Since Kanikannan has changed his mind [from going out of Kanchi]. I [
Alwar
] am, as a determined poet, also changed my mind [and returning to Kanchi], Oh! Manivanna! You may also return and unroll Your serpent bed!". The Lord obeyed the
Alwar
and hurriedly unrolled His bed and reclined. This hurry might have caused Him to reverse His posture. Thus He did what the
Alwar
said [
sonna vannam seidha Perumal
].
Swami
Vedanta Desika says [in
Vegasethu stotram
]
ekam vegavati theere hasthisailesa
drusyate
- He is the One on the banks of river Vegavati and atop Hastisailam. How can They be the same? The Lord at Thiruvekkha is
Upayam
[உபாயம் Means] to reach the
Phalam
[फलं பலம் result] at Hastigiri. Bridge is the means to cross! Now we will see
sloka
20:
dyav a-prithivyor idam antaram hi
vyaptam tvayaikena disas ca sarvah
drishtvadbhutam rupam ugram tavedam
loka-trayam pravyathitam mahatman
"Although You are one, You spread throughout the sky and the planets and all space between. O great one, seeing this wondrous and terrible form, all the planetary systems are perturbed."
Arjuna is seeing the Viswaroopam of the Lord. It is spread the entire space without exception. Where all the Image is spread is explained in this sloka. A Dyav = from sky, prithivi = to earth, antaram = between, tvaya ekena = by You [Sri Krishna] alone, vyaptam hi = pervaded only, disas = directions, sarva = all over. The Image of the Lord is spread all over from this earth to sky, covering all the worlds in between, and in all directions, by the Lord alone. Idam = this, adbhutam = wonderful, rupam = Image [of the Lord], ugram = frightening, drishtva = seeing, tava = Your [Sri Krishna's], loka-trayam = all the Three worlds, pravyathitam = very much trembling, mahatman = Oh! Mahatma [Sri Krishna]. Atman means mind and mahatman means determined mind. Arjuna exclaims that by seeing the determined Lord, all the Three Worlds - people and living beings in them - were very much trembling. Arjuna says the entire space between the Upper Worlds and this Earth are pervaded by the Lord, alone. In our body, the soul pervades the entire body. Soul is very minute and is is at one place only; but its intellect is spread all over the body. Whether injury is on toes or on head, the soul feels through its gyana. We have to remember that the Lord also is not like the soul, pervading all over through His Gyana. The Lord Himself is Omni Present. If He Himself is present everywhere, why are we not able to see Him? Because. He has not gifted that special eyes for us to see Him. Arjuna was gifted and he saw the Lord everywhere and people trembling. Who are those Three types of people? They are anukula [अनुकूल favourable], pratikula [प्रतिकूल unfavourable] and udhasina [उधासीन careless] peoples. Devas are anukula people and Asuras are pratikula people. But we need not tremble to worship the Lord Utsavar of this Kshetram.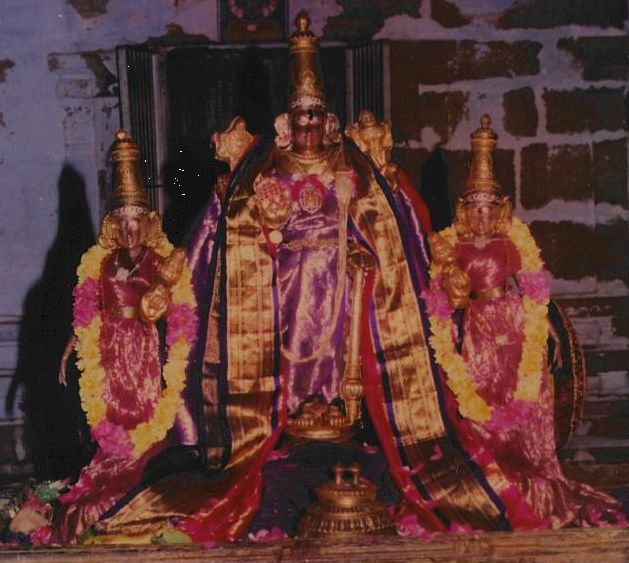 SRI SONNAVANNAM SEIDHA PERUMAL -SRI YATOKTAKARI

The Lord graces with right arm showing abhaya and left arm holding the mace. Whatever qualities Arjuna described like Sun's brilliance, etc., can be seen in the Lord here. The place where lord Brahma performed the yagna, is also part of the Devastanam. This Lord appeared one week before, that is in Chitra Punarvasu. We will now take leave of this temple.