We are climbing up the hillock Hasthigiri. There are 24 steps. Even the stones on the compound wall are 24. The
pushkarini
also has 24 steps.
Gayatri mantra
has 24 syllables. Therefore, it is no wonder that the Lord, Who has
Gayatri
as His body, has everything, around number 24. Apart from this, according to
Visishtadvaita
philosophy,
achit
entities are 24. That is inanimate entities are 24. When we cross the 24 steps we land on the top floor and that is the 25th entity,
Jeevatman.
From this floor we have to climb some more steps to reach the
garbha gruham
of Sri Devaraja
Perumal.
The Lord is considered as the 26th Entity. We come to the corridor on the floor and we go round that. One end of the corridor is famous for Two things. Firstly, we can see Two lizards - one golden and the other silver- are sculpted on the wall. Any pilgrim coming will always worship these lizards. Once there lived a King who had Two sons. A sage met them and asked them to bring water. They brought a pot of water, but due to carelessness, a lizard was in the pot. The sage cursed the sons to become lizards, for their carelessness. The boys pleaded mercy . The sage directed them to go to
Satyavratha Kshetram
[Kanchi] and worship Lord Sri Devaraja, to get relaesed from the curse. Those boys did accordingly and were released from the curse; but the lizards sculpted to represent them are on the wall. Touching them and worshiping the Lord would relieve us from our ailments. The Second famous incident is also from this mandapam. Besides the lizards, we are in an ocean of
samsaram
; and
Swami
Ramanuja taught us the means to cross this ocean.
Swam
i Thirukacchi Nambi was responsible for making
Swami
Ramanuja, a devotee of Sri Varadaraja.
Poovirundavalli
[now called Poonamalle] [பூவிருந்தவல்லி (அ) பூந்தமல்லி], is a place in between Madras and Kanchi. In that place was born Gajendra Dasa, in Masi month Mrugasirsha star. He later was called Thirukachi Nambi [திருக் கச்சி நம்பிகள்]. Kacchi is Kanchi. How a person of Poovirundavalli, became Thirukkacchi Nambi? This person desired to serve the Lord. He found a hand fan [விசிறி], and thought of serving the Lord by fanning. This is called
Thiruvalavatta
service [திரு ஆலவட்ட கைங்கர்யம்]. He went to Srirangam and offered to serve the Lord by fanning. He was amidst Two rivers and so He did not feel the necessity of that service. Gajendra Dasa went to Thirumala and offered, There also the Lord did not have the necessity, as the top of the Hill was quite cool. Then he came to
Satyavrata Kshetram
, where the Lord had appeared amidst
yagna homa kund
. Therefore, the service of fanning to cool, was necessary here and Gajendra Dasa started the service. He served the Lord daily without interruption. Appreciating this service the Lord, in idol form, used to converse with Gajendra Dasa and so he was called Thirukacchi Nambi. Thus he had the previlege to talk to the Lord here. Today's [8th October 2008] lecture is from the
mandapam
,
Kachhikku vaithan mandapam
[கச்சிக்கு வாய்த்தான் மண்டபம்]. Every evening the Lord would arrive at this
mandapam
, and
Swami
Thirukacchi
Namb
i would start his service. After sometime, the Lord would ask him to go home and the Lord would return to His sannidhi inside. We can not even dream of such a previlege. He composed
Devaraja Ashtakam
on the Lord. This is not an ordinary
mandapam. Swami
Ramanuja had some doubts in his mind. Without telling what his doubts were,
Swami
Ramanuja requested
Swam
i Thirukacchi
Nambi
to ask Sri Devaraja, to solve them.
Swami
Thirukacchi
Nambi
was a desciple of
Swami
Alavandar and
Swami
Ramanuja did not know under whom he should study. Amidst such a situation,
Swami
Thirukacchi Nambi was requested to clear
Swami
Ramanuja's doubts. One day as
Swami
Thirukacchi
Nambi
was serving the Lord in this
mandapam
, the time approached for the Lord to retreat.
Swami
Thirukacchi
Nambi
was not leaving. So, the Lord inquired as to what
Swami
Thirukacchi
Nambi
wanted.
Nambi
told the Lord that
Swami
Ramanuja had some doubts to be clarified. Immediately the Lord pronounced Six Sentences [in Tamil they are called
Aaru varthaigal
ஆறு வார்த்தைகள்]. Toady, of all the
Kshetram
s, this
Kshetram
is unique because of those Six Sentences. Those are:
Ahameva param tatvam

.

अहमेव

परम

तत्त्वं

।

The Lord said that He was the Ultimate God or

Paramatman.




Darsanam bheda eva cha

.

धर्सनम

भेद

एव

च

।

Siddhantam

or Philosophy is not

Advaitam

, but based on the separate entities of

Achit, Chit

and

Iswara

. Understanding all the three as one, was wrong.


Upayeti prapattisyat

.

उपायेती

प्रपत्तिस्याद

।

Means to reach the Lord was Ultimate surrender or

saranagati.




Antima smriti varjanam.

अंतिम

स्मृति

वर्जनं

।

Such persons who have surrendered to Him, need not remember the Lord at the last moments in the death bed, to get

Moksham

.


Dehavasane muktisyad

.

देहावसाने

मुक्तिस्याद

।

Moksham

will be granted when the body with which he surrendered, is cast off after death, in this birth itself; he need not have to wait for all

papa

or sins to be expended.


Poornacahrya samasrya:

पूर्णचार्य

समाश्रय

:

Swami

Ramanuja should seek

Swami Periya Nambi

[महा पूर्णा] as his

Acharya.



Though explanations of the above will be too long, precise meanig has been given. Thus we can worship the place from where the redemption of the Universe was guided.
Swami
Ramanuja was very glad to hear the words of the Lord through
Swami
Thirukacchi
Nambi
. We will now see
sloka
8 of Chapter 11:
na tu mam sakyase drastum
anenaiva sva-caksusa
divyam dadami te caksuh
pasya me yogam aishvaram
"But you cannot see Me with your present eyes. Therefore I give you divine eyes. Behold My mystic opulence!"
The Lord says that He was to offer Arjuna with Divine eyes. Te = to you [Arjuna], divyam = Divine, caksu = eyes or eyesight, dadami = [I, Sri Krishna, am going to] give. Pasya = look [ with such Divine gift], me = My [Sri Krishna's], yogam aishvaram = auspicious qualities, divinely beautiful image, everything without exception contained in the Body, Magnificent Power and Infinite Capacity. Arjuna got the doubt: couldn't he see with the eyes he had? The eyes we have, have limited powers. Was he not seeing Sri Krishna? No, they were not enough to see Viswaroopam. This is explained in the First Two lines of the sloka. Mam = I [Sri Krishna], aneana = with these, sva-caksusa = your [Arjuna's] [ordinary] eyes, drasyam = viewing [the Viswaroopam], na sakyase = not possible. Arjuna would not be able to see with the physical eyes he had. But he could see the Lord in His divine form, with the help of the Divine eyes, the Lord was about to grant. We know that Swami Koorathalwan, to save this sampradaya, lost his eyes. Swami Ramanuja ordered him, to go to Sri Devaraja, and pray to get his lost eyes. Reluctantly, Swami Koorathalwan arrived at Kanchi and composed a beautiful poem Sri Varadaraj Sthavam. He prayed the Lord to show Him. The Lord appeared and enquired what he wanted. Unwilling to ask for the lost eyes and at the same time to obey Swami Ramanuja's order, Swami Koorathalwan requested the Lord to grant hin eyes with which he could see only the Lord and Swami Ramanuja. The Lord also granted Moksham to all his relatives. And, as prayed by Swami Koorathalwan, the traitor Naluran [நாலூரான்], who helped the King to summon and remove eyes for not complying with King's order, also was granted Moksham. It is therefore, evident that only with His grace, one can ever see Him, whether in Viswaroopam or in temples in Archa form. We have to take efforts to get His blessings.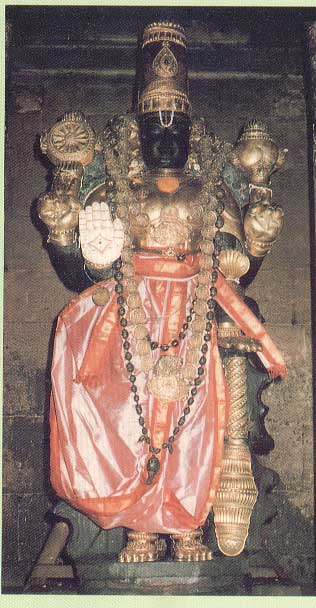 SRI DEVADIRAJA.