We are in Thiruthanka
Kshetram
in
Thondainadu
and praised by Thirumangai
Alwar
in Two
pasuram
s. The Lord here is Sri Deepaprakasa. We saw the reason for this name. Since Saraswati tried to prevent the
yagna
being performed by lord Brahma, by creating darkness, the Lord appeared as Sri Deepaprakasa and illuminated the area so that the yagna could be carried out. Having this in mind, Thirumangai
Alwar
in his last
prabhandam
,
Thirunedunthandakam
[திருநெடுந்தாண்டகம்], praises the Lord.
Alwar
loses his male form and imagines as a woman, Parakala Nayaki, deeply in love with the Lord. 'She' yearns to be with the Lord and 'her' grief makes 'her' unable to say any words. So, 'her' mother speaks for 'her'. That is how this pasuram is composed. Parakala Nayaki has trained a parrot to repeat the names of the Lord. The parrot goes on shouting the names. It says '
vilakkoliyai'
[விளக்கொளியாய்]-that is light of the lamp. A light will identify itself and all surroundings to others. Like wise, with the help of the Lord we are able to identify all things in this world, as well as identify Himself. That is the significance of the Lord here. The parrot also speaks out '
marakathatha
i' [மரகதத்தை]. The Lord is like emarald. Just like every product from a particular place is famous, like horses from arabia, emarald from Thiruthanka is famous. That emarald is the Lord here, along with Sri Marakathavalli
Thayar
. It seems pilgrims of North India on tour of South, first enter Kanchi and worship Lord Sri Vilakkoli Perumal First. Immediately, all their travel fatigue disappear and with enthusiasm, they continue their travel South! What are being identified by
Vilakkoli
or Lamp light?
Swasya roopam, partva roopam, Upaya swaroopam, Virodhi swaroopam
and
Purusharta swaroopam
. These Five are identified by studying
Alwars' pasuram
s. The knowledge we obtain by studying
Alwar
s'
pasurams
are:
Paramatman, Jeevatman
, means to reach Him, obstaces in reaching Him and the result after reaching Him. This knowledge about these Five are essential to reach
Moksham
. These Five are called
Artha Panchakam
[அர்த்த பஞ்சகம் अर्थ पंचकं]. The Lord here illuminates to get this knowledge a bout
artha panchakam.
Since the parrot sings the names of the Lord, Parakala Nayaki thankfully salutes the parrot, says the Mother! We will worship the Lord now.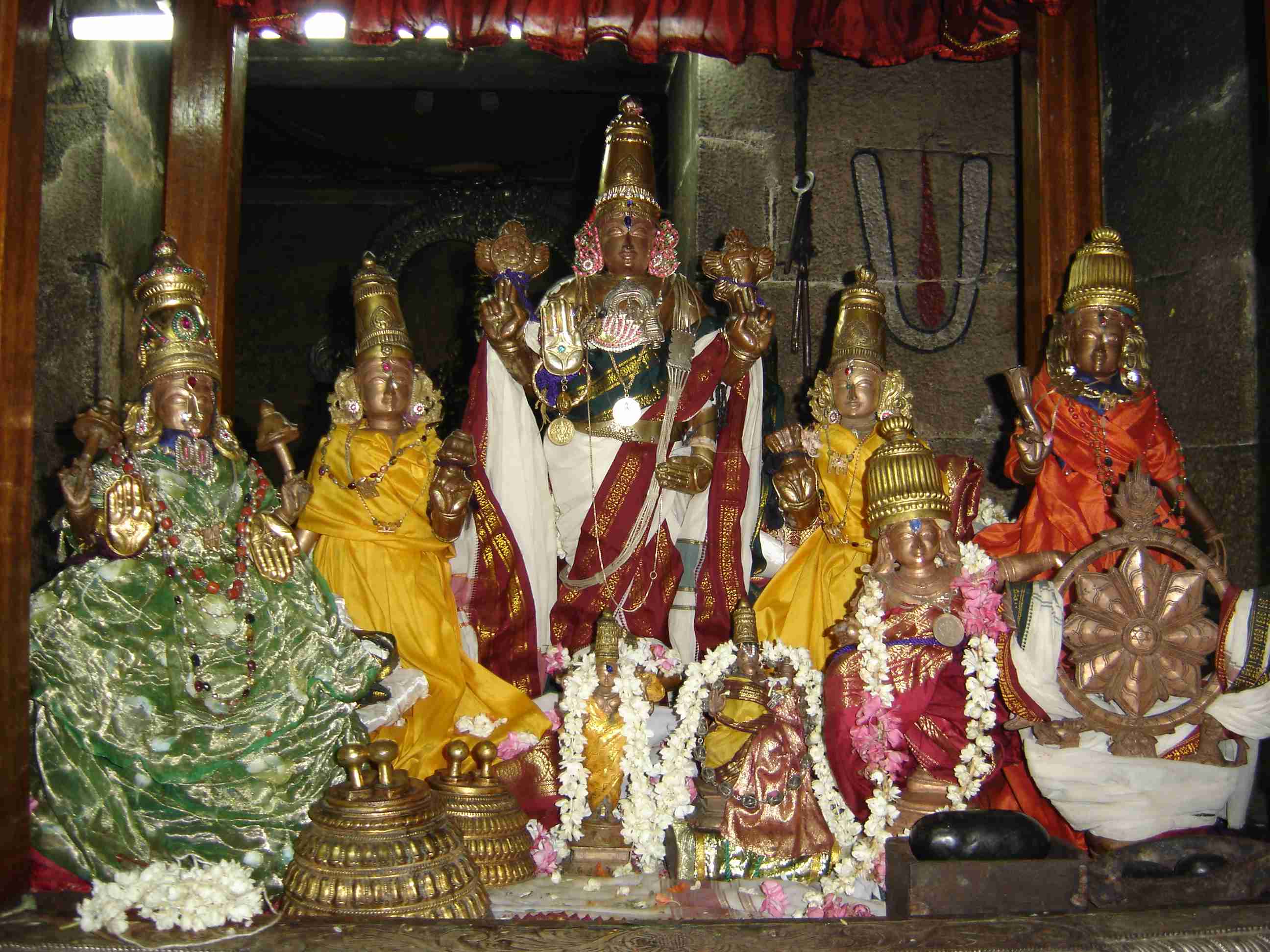 His right hand is in
abhaya mudra
. Upper arms are holding discus and conch. The Lord is radiating like a bright lamp. It is said that all illuminating objects we see, like the Sun, etc., get their radiating power from the Lord. We can see the Lord gracing with
Ubhaya Nachiyar
s. The Lord blessed
Swami
Vedanta Desika to write many works to help
Sri Vaishnava
world. In
sloka
22, we saw that all viewed the
Viswaroopam
with awe and wonder. In
sloka
23, Arjuna exclaims that people were viewing with fear.
Sloka
23:
rupam mahat te bahu-vaktra-netram
maha-baho bahu-bahuru-padam
bahudaram bahu-damstra-karalam
drishtva lokah pravyathitas tathaham
"O mighty-armed one, all the planets with their demigods are disturbed at seeing Your great form, with its many faces, eyes, arms, thighs, legs, and bellies and Your many terrible teeth; and as they are disturbed, so am I."
Drishtva =seeing [Viswaroopam of the Lord], loka = [all in this] World, pravyathita = are frightened, tatha aham = same as I [Arjuna]. Arjuna says that like all people were frightened to see the Viswaroopam, he was also frightened. Arjuna has been so close to Sri Krishna, but suddenly when Sri Krishna showed His Viswaroopam, he was terrified. It is not the fear that He might kill or harm him, or the fear some of them were having, as seen in earlier slokas; but it is a fear arising out of wonder. A fear born out of reverence. Te = Your [Sri Krishna's], mahat = great, rupam = image [Viswaroopam], bahu = [with] many, vaktra = faces, netra = eyes, maha baho = Oh! the Lord with long hands. It seems the Lord's hands were lengthened because He always granted and gifted away to everyone; and, that is why He is Sri Varadaraja! Bahu = [with] many, bahu = hands, uru = thighs, padam = legs, bahu = [with] many, udharam = stomachs, bahu [with] many, dhamshtra karalam = frightening canine teeth. How can many stomachs be mentioned here? This may raise a doubt whether this Viswaroopam is the image of One or many. We should understand that stomachs could be many; but waist would be single. Waist joins the upper and lower parts of the Body. Thus Viswaroopam is with countless faces [or mouths], eyes, hands, thighs, legs, stomachs and frightening canine teeth. Therefore, people, as also Arjuna, are afraid in viewing the Viswaroopam. We will now take leave of this Kshetram.