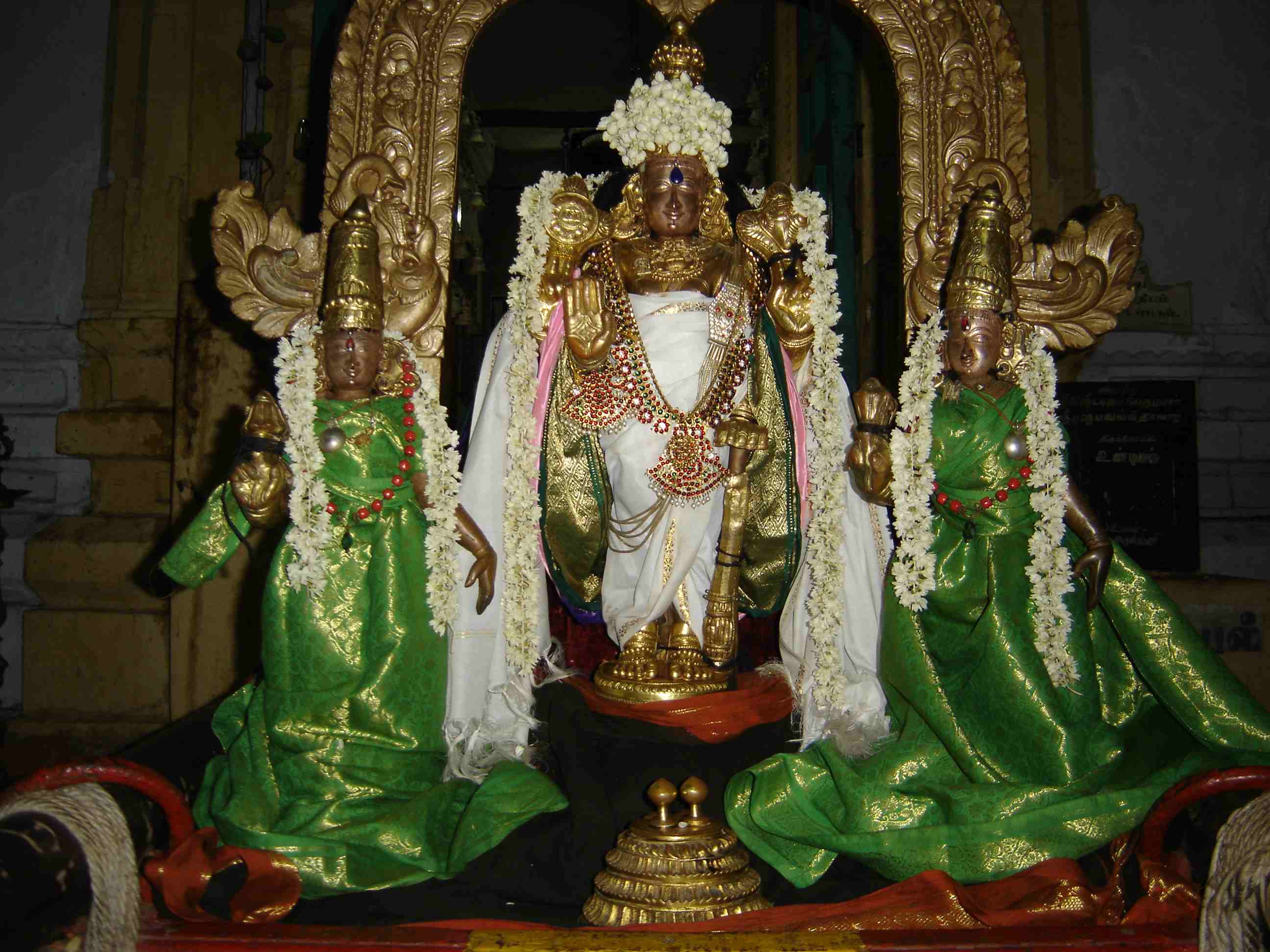 Lakshmyasaha rishikesa: devya karunya rupaya|
Rakshaka traya siddhante vedante pi cha diyate ||
From this
sloka
we understand that the Lord along with Sri Maha Lakshmi protects us. Without Sri Lakshmi, the Lord could punish; but if Sri Lakshmi is with Him, the Lord always saves.
Alwar
says the Lord's nature is to protect us. Vali thinks why Sri Rama hit him unseen? After search, he tells Sri Rama that since Sri Sita was separated from Him, He was not aware what He was doing. That is why He lost His balance and hit Vali, says Vali. From this we should know that the Lord kills someone, only when His Consort
Sri Thayar
is not near Him. If He has to save devotees, then certainly She must be along with Him. So, when She is nearby, the Lord protects. To save devotees, enemies have to be killed. When She is nearby none can be killed. Here, we may get confused and raise a doubt. Is Sri Lakshmi encourages Him to kill or is She inducing Him to protect? To know the answer we have to come to the temple of Sri Ashtabhja
Peruma
l. Here we should worship
Sri Thayar
, called Sri Pushpavalli
Thayar
[ஸ்ரீ புஷ்பவல்லி தாயார்]. She is seated and beckons the devotees to come and surrender at Her Divine feet. The Lord carries weapons in His arms. Seven of them are recognized as weapons. But why should He hold a Lotus flower? Is lotus a weapon to kill anyone? The Lord is symmbollically having Sri Pushpavalli
Thayar
in one of His right Hands. Is She then a weapon? We might think. But
Sri Thayar
is certainly needed to protect anyone. The Lord carries Seven weapons to kill enemies and in one hand He is carrying flower to protect devotees. Thirumangai
Alwar
imagined himself to be one of His Consorts, and composed 10
pasuram
s [2.8]. 'She' asks who was the Person, like the ocean or like the lit lamp. etc? And, for every question the answer is the Lord Sri Ashtabhuja
Perumal.
Thus the hymns are composed. In one
pasuram
[2.8.9], Parakala
Nayaki
worships the Lord. Admiring 'her' beauty, the Lord says something. Commenting on this
pasuram,
Swami
Periyavacchan Pillai, enquires what the Lord could have told. Why Alwar did not elaborate on what the Lord told? Reasons could be many. Parakala
Nayaki
was mesmerized by the beauty of the Lord and so could not grasp what the Lord told. Or, though 'she' knew waht He told 'her', since it was the exclusive secret between the Lovers and so 'she' preferred not to reveal what He said. But,
Swami
Periyavacchan Pillai further probes and says that since 'her' waist was so narrow and fragile, the Lord asked 'her', whether He could hold and support 'her'! The Lord is with Eight hands and so support could be secure! Does it mean this
pasuram i
s about lust and passion? Waist is called
idai
[இடை] in Tamil.
Idai
also means middle. In
Ashtaksharam mantra
,
pranavam [AUM
ஓம் ॐ ] and
Narayanaya
[नारायणाय] are at the ends and
nama:
[नम:] is in the middle or
idai. Nama:
that protection of the self is only by the Lord and one can not protect oneself. Seeking His feet alone as refuge or
saranagati
is meant by
nama:
and for that He is means [
upaya
उपाया]. So here when Alwar has clear perception of the
idai,
the Lord has to support 'her' only. We will now see
sloka
38. In
sloka
37, Arjuna wondered who would not worship the Lord with folded hands. As told in
Alwar
's
pasuram
, the Lord protects all who worship Him with folded hands. Arjuna says further that the Lord is
antaryami
in everything:
tvam adi-devah purushah puranas
tvam asya vishvasya param nidhanam
vettasi vedyam ca param ca dhama
tvaya tatam vishvam ananta-rupa
"You are the original Personality of Godhead, the oldest, the ultimate sanctuary of this manifested cosmic world. You are the knower of everything, and You are all that is knowable. You are the supreme refuge, above the material modes. O limitless form! This whole cosmic manifestation is pervaded by You!"
Ananta-rupa = Lord with infinite image, tvam = You [Sri Krishna] are, adi-deva = very First Deva, purusha = grants whatever is prayed, purana = very Ancient but appearing ever fresh [pura + api navam = puranam], asya = to this, vishvasya = Universe, param = most superior or the highest of all, nidhanam = basis, tvam = You [Sri Krishna] are. Sri Krishna is the basis for all this Unuverse, for origin and support. Vettasi = knowledgeable, vedya = to be understood, param = most superior, dhama = abode. That is the Lord is to be attained or to get the result of reaching Vaikuntam. Dhamam is also called purushartam or the ultimta objective. He knows all and all have to know Him, to reach Vaikuntam. Tvaya = by You [Sri Krishna], tatam = pervaded, vishvasya = this Universe. The Lord is pervading the entire Universe, He knows everything and all have to know Him to reach Vaikuntam, basis for entire Universe, Origin of everything and the First among Devas and Ancient, but always afresh, He grants anything prayed for. Who would not respect the Lord with such eminence? Is there any deficiency to protect us? Arms are eight. Is He lacking in weapons? Are there no predecessors, who have been rescued by the Lord? Lord Brahma and Gajendra are standing examples. Is He frightening with all dangerous weapons? Like Sri Pushpavalli Thayar, He is holding flower, symbolic of mercy. Is He ugly that we can not approach? The Lord is radiating like a lamp with the hue of ocean. So. what deficiency we can find to avoid respecting Him? To the Lord, Who is having all matters in this Universe or in Moolaprakruti, and all souls whether baddha or mukta, as His body and pervading everything without any exception, Arjuna offers his obeisance. We now take leave of this Divya desam.